Sixteen years ago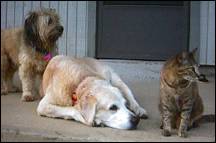 Wags got passed around a lot the first two years of his life. He was displaced by a baby and eventually ended up as the ward of Daryl, the guy who lived across the street from me and Dune Dog in Isla Blanca.
Dune Dog - the yellow lab who must have been five or six at this time - was the first dog I acquired as an adult. He was a wonderful companion - stout-hearted and true and a tennis-ball loving fool. All his life he didn't cotton much to other dogs, particularly other dogs who might be trying to steal my affections.
Wags was a big exception to that rule.
Duner loved Wags. They didn't really "play" together but they were definitely buds. Say what you will about Daryl (and his ex-wife, who is still cutting hair here, can probably say plenty) he was too kind-hearted to keep a dog on a chain all day. Wags pretty much had the run of the park while Daryl was away, which meant that he spent a lot of time hanging out with me and Dune.... but also managing to get himself arrested by the county cops.
In later years, I would fondly refer to Wags as "my velcro puppy." Everything stuck to him: twigs and dead leaves but mostly stickerburrs. My earliest encounters with Wags - while he was still living with Daryl - involved throwing him down, sticking a chew toy in his mouth and grimly going after those stickerburrs. He hated it at first, but eventually he realized I was just trying to help and finally seemed to actually enjoy the de-burring sessions. Sometimes Dune would jump in as well, pulling burrs from Wags with his teeth.
Walter and I got married in 1990. He had bought George Colley's old trailer just up the street from mine so there was no pressure to move in together. He still had John Dog (Duner's uncle) and Amber (Duner's granny) and all three yellagators participated in the wedding.
It must have been shortly after this (1990, the year "Sandcastles Step-byStep" was published) that Darryl came to me and asked if I would take Wags. It was getting expensive bailing him out of jail and if I was not willing to take him, well, Wags would have to become a ward of the state. And we all knew all too well what happened to homeless dogs back in those bad old pre-humane society days. For the crime of not being loved, animals were taken behind the police station and whacked with a baseball bat.
While I was not entirely convinced that I needed two dogs, I had absolutely no intention of letting that fate befall Wags.