At 9:26 PM -0400 6/21/07, PadreMoon@aol.com wrote:
Hey Feets, Thanks for the quick reply, wish I was listening to some tinkly music somewhere but noooo, I'm here at the office working on tomorrow's Moon.....and lots yet to do. Hope you're having fun and I'll get back to you this weekend when I'm not so crowded for time. Still have only 91 more emails to sift through tonight for "News" and then edit to put in the paper. Yikes! - Mike
And that's the last time I heard from you.
I didn't want to push or bug you -- I know you are a busy busy guy and highly resistant to the kind of pressure I am wont to apply when I don't think someone is keeping up with his end of the correspondence -- but right now I am sure wishing I had pushed a little harder....
Last night a couple of your buddies took it upon themselves to look me up and let me know about your stroke and the long road back that you are facing. The news pretty much ruined my evening, and I am so glad they did. This morning I found the new
islandmoon.com website
(it's about damn time you got around to that - I have been pushing you on that one for nearly a decade now!) - and read your brother's updates on your condition and all the email from the people who love you.
Well sure I am one of them.
So I have spent the last few hours following your trail on my computer - it is a long one, dating back to this photo of you and me at the 1996 C-Sculptures contest -- my first solo sandsculpture victory with a piece entitled - fittingly enough -
"Moon Over Padre."
We had met mere hours before this was shot, but I already knew that we were going to be friends, which is why I insisted that you strike a pose with me...look how young and handsome we were back then!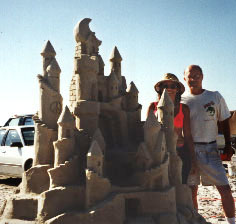 This one was snapped on South Padre Island at Wacky Jackie's 40th birthday party in June of 2001- that's you, me and Renetta at Louie's. Wasn't _that a party!
But there were so many good ones -- like the time I (accidently!) f**ked up the lady's room commode at the (NPI) Backporch Saloon by flushing my shades. (I am pretty sure it was all
your
fault.)
Your photos of their ultimate recovery
had me rolling on the floor...
Dammit, Mike.
Get better quick.
Please.
Fondly,
Feets
Link