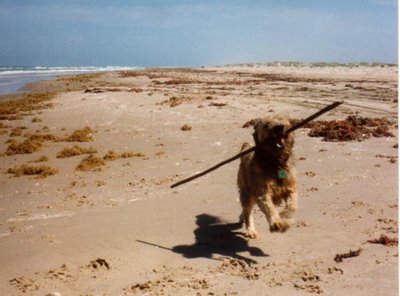 My longtime buddy Wags decided of his own accord to check out today.
I found him - still warm - curled up in the sandbox looking like he was just taking a snooze....
Matt and Raybo were there. We planted him in a hole recently vacated by a re-located palm tree, a spot where he will always be close to me and his original companion, the long-gone but never forgotten Dune Dog.
I have been trying to prepare myself for this day for a couple of years now. It didn't help. Even though I know he would have been miserable in my non-airconditioned truck if/when I have to evacuate from Hurricane Dean's path, I can't help wishing he could have hung on for just a little bit longer.
For purely selfish reasons.
Because I already miss him.
Terribly.
Thank you to everyone who ever gave Wags a treat, threw him a stick or fuzzied his ear. Because of you, that little dog enjoyed a
long, happy life
of the kind too many other dogs can only dream of.
Labels: Hurricane Dean
Link