SoBs in Hawaii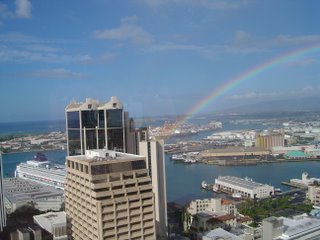 We recently got our first report of the season from far-flung SoBs Balde & Rennetta Silva - aka
Toby Beau
. They are doing the cruise-ship gig in Hawaii again this year and one of their ports-o-call is Kona - the selfsame city (on the big islnd) where I will be headed in early Feb.!
It goes something like this:
Aloha Pirates,
As many times as I have been pulled over in my life, I've always wondered to myself, do I stop and sit tight with my hands at 10 & 2 on the steering wheel or do I casually step out of the vehicle and risk a Rodney King. Well, I'm going to step out of the car and tell you why I haven't written in so long. Ready... here it is. I've had "Red Ryder's Block." I had you going for a minute.
The truth is I've had nothing to say, I still don't. Nothing happens here. No blows to the head, no typhoons, this place is so beautiful and laid back that in Hawaii "The Amazing Walter" would be a maniac.
Rennetta says I'm lazy, she calls me flo-ho, which means drag ass. Not to be confused with chicken ho which is one of Gilbert Vela's fishing charters. I think he saw a chicken ho on Jerry Springer.
Okay I'm going to take the wax out of my pen and my ears and take this time to thank South Padre Island for a wonderful Holiday. Rennetta, Michael and myself had a great time! Special thanks to Bill Donahue, Sue Britton, Daniel and all the Rudy's over at the Rad. They almost fainted when we said Rennetta wasn't going to have a White Elephant Party this year, but that's okay, we'll make them sorry they let us next year.
My best Christmas present was becoming an uncle again at Louie's Backyard. Little brother Joe and Stacey Ricco gave us a beautiful little wise girl named Samantha-I love you guys.
I got another Christmas present, too. A Gibson Epiphone Les Paul Texas Longhorn special edition guitar (beautiful)! I can't wait to show Taylor Stanton, being she is such a big Longhorn fan. Ha! The Aggies will get em next year, Taylor. Hang in there.
I'm running out of chit chat and bordering on babble, so I will sign. I miss all of you.
Hang Loose.
Balde Silva/Toby Beau
p.s. Balde's video pick of the week-Broadway Danny Rose by Woody Allen. If you can find it, rent it, it is hilarious!
Attached is a picture of our first morning in Honolulu from our hotel room on the 38th floor. Love the rainbow and at the bottom of the screen is our cruise ship.