a wake for my dad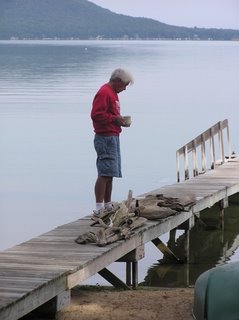 You are invited to come celebrate the life and times of Don "Dad Feets" Wierenga, who passed away unexpectedly on April 20, 2009 while spending time with his daughter here on South Padre Island.

An island-style wake will be held Friday, May 1 at the SandBox Inn - 117 E. Saturn Lane - starting at 5 PM. There will be food and drink - all dad's favorite things. We will share memories and sing a few of his favorite songs in one of his favorite places -- under the trees where he spent so much of the past four months. It will be a great opportunity to learn more about this amazing man, enjoy the company of other people who knew him -- and bid him a fond farewell.

At dusk we will light a ceremonial fire sculpture created specifically for this celebration by Alice Abbot of Brownsville.

If you play or bang something, please bring it with you as we hope for/expect both drum and song circle action as the night winds down.

If you would like to bring something to eat or drink, that would be nice but please do not feel obligated.