Dad Feets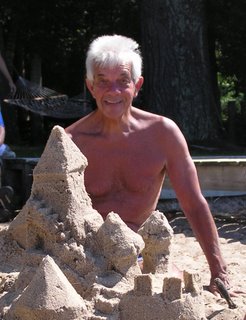 Donald "Dad Feets" Wierenga of Douglas, Michigan and South Padre Island, TX passed away unexpectedly on April 20, 2009. He is survived by his wife of 57 years, Virginia Wierenga of Douglas, MI; daughters Debra Wierenga of Holland, MI, Susan Wierenga Pyle (Steve) of GrandHaven, MI and Lucinda Wierenga of South Padre Island, TX; grandsons Dylan, Emerson, Eliot and Shane; numerous cousins, nieces and nephews; and hundreds if not thousands of grateful friends & acquaintances who were lucky enough to experience the full extent of his boundless love and energy.
Don spent his first half century as an educator and a counselor. He quickly rose to the administrative level in the Grand Rapids MI school system, but never lost his touch with the kids. He was a really good listener, which made him a really good arbitrator/counselor and in fact he spent some of his final hours trying to negotiate peace between a troubled nephew and his family.
After taking early retirement, Don explored his creative side, creating graceful sculptures of driftwood, rocks and shells he called "Bird Castles. " He sold some at art shows but gave away far more of them - often on a whim to people he had just met. He also became an active member of the SPI Sons of the Beach Sandcastle Wizards, assisting Amazin' Walter and sandy feet with a number of major sand sculpture projects all over the country. Just last summer - at the age of 77 - he helped daughter Lucinda carve some 50 tons of sand in two days for a festival in Petoskey, MI. He could shovel men a third his age under the table!
Don liked to build things, and he was really good at it. He built homes with his father, and he built homes for his family, including a playhouse in the back yard for his daughters. In his later years particularly, he used his skills to help others. He took his tools into the worst of Katrina-hit Mississippi and assisted many families in rebuilding their homes and their lives after that devastating storm. In the fall of 2007 he worked for three months as a volunteer in a small town in Kenya that is being built to help families devastated by the AIDs epidemic.
Don was finishing up his final project -- an annex on his daughter Lucinda's SPI home -- when a construction accident took him away from us. He had hoped to spend his remaining winters in Texas building sandcastles with sandy feet, taking long beach walks with Peach and joshing the bartenders at Blackbeards, where he was something of a regular.
There will be a wake at the Sandbox Inn (117 E. Saturn Lane, SPI) on Friday, May 1 starting at 5 PM. All of Don's Texas friends are invited to come celebrate the life of this extraordinary man.
If you have photos or memories that you would like to share, please visit his
memorial site
.
If you are interested in learning more of his accomplishments, please visit
wierenga.com
.