Season of Peace, Hope and Love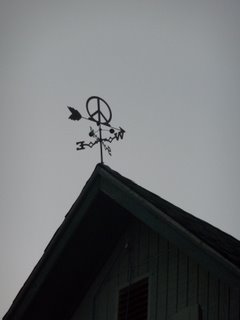 Now that the election is behind us with someone I actually voted for about to be sworn in (Hurray!), I suddenly notice it is November and Jollidays are right around the corner. Even though the scary economic situation headlines keep trying to buzzkill my optimism for a brighter future, I refuse to succumb to despair....
And now that I have finally got my new weather vane installed here at the SandBox Inn, it is
always
the season of peace, hope and love under this roof.