My Favorite Magazine Cover EVER!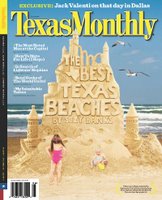 Some folks would say that we don't have any seasons here on South Padre Island, or that if we do they can be simplified as Early summer, Summer, Late Summer, and Next Summer. But they couldn't be more wrong. We have
lots
of seasons - - way more than four. In fact, I have identified 12 distinct if sometimes overlapping seasons, starting (more or less) with the beginning of the calendar year, and this is what I call them:
Holiday
Winter Break
Spring Break/Mexican Break
Locals Break (aka "Peace-N-Quiet")
First Wind
Turtle Days (aka "Sargassum")
Fireworks
Dog Days
Back-To-School (aka "Where'd everybody go?")
Biker/Sandcastle
Second Wind
Peace-N-Quiet II/Pirate Days
Right now we are at the tail end of First Wind which is segueing into Turtle Days which very soon will be overlapping with Fireworks -- which coincides with the arrival of the Summer People to the beaches and the
Bongodogs
to Wanna Wanna.
I will be seeing many of you here at the
Sandbox
, which is almost completely booked through Fireworks, Dog Days and much of Back-To-School -- and even more who are signing up for
sand castle lessons
in truly gratifying numbers, thanks in large part to the June issue of
Texas Monthly
, which features an SoB sand castle on the cover and the cover story ("The Best Texas Beaches") has a nice mention of my lessons and my Sand Castle Academy at the SandBox Inn.
Better run out and get a copy quick before I - or the
Summer People
- beat you to it!
Labels: sand sculpture, sandcastle lessons, south padre island