Valentines Day Sand Sculpture (?)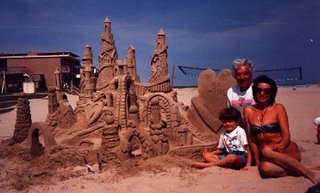 Way back in the day when Arnold Samuelson of the Island Times would bend his considerable energies toward getting Amazin' and myself to build a hearts and flowers castle during "Give Your Sweetheart the Island" weekend. (Whatever happened to that promotion, anyway? Guess it went the way of "Pirate Days"...) Sometimes there was a small budget; sometimes just a tip jar but as long as the weather was nice it was something I enjoyed. (The photo is from VDay 1994 - that's a much younger me with Dad Feets and my nephew Dylan - now a junior iat Columbia.)

This time of year, I almost always get asked if I am going to carve something on Valentines Day, and it always seems like a great idea -- until other (paying) jobs pop up or the weather decides not to cooperate.

This year I actually have been offered a paying job - carving the logo of local real estate agent Rhonda Overton over at Wanna Wanna on V-Day. When we first discussed this plan, Lyin' Bryan the weather guy was promising spring-like temperatures and sunny skies and I thought it might be fun spending the whole day and putting a sweetheart message on the other side of the sculpture.

Now it is looking like it could be cold and wet and while I will still build if Rhonda wants me too, I find it highly unlikely that I will want to spend one more minute than necessary up to my elbows in wet sand. Darnit.

What a weird winter it has been. Enough of the cold, wet stuff already!!!!
Update: Rhonda has decided to postpone our project until we get some better weather -- I am a bit relieved.